Welcome to Quoc Cuong Trading Construction Co., Ltd! Typical brands, products and services of APEC 2017. Typical entrepreneurs of APEC 2017. Reliable suppliers in Vietnam * Reliable and quality enterprises in 2009, 2010, 2011, 2012, 2013, 2014, 2015 & 2016 * Contact to see a specialist 0988 55 88 79 * 0903 831 312. xaynha.com; bietthudep.com.vn; nhatienche.vn; quoccuong.com.vn; nhatheptienche.net; nhavuon.net.vn
WEDDING RESTAURANT + LOTTERIA. INVESTOR: ANH HOANG. LOCATION XD: TX. HONG NGU - DONG THAP PROVINCE.
Sydney wedding party restaurant + Lotteria built in Hong Ngu town, Dong Thap. Owner: Sydney Nhu Hao Hotel Restaurant Service Joint Stock Company. Chair of design: Famous architect Vu Anh Tuan. Design and construction unit: Quoc Cuong Trading Construction Co., Ltd. The area of ​​the land is 2,400m2. Ground floor has an area of ​​60m x 25m, total construction floor area: 10,580m2, very modern elevators of Japan. Central air conditioning system of top brand of Japan. Electrical equipment using Panasonic Japan brand. There is a full fire escape, fire protection system is very safe. Wedding + Lotteria restaurant is a few dozen kilometers away from Tram Chim tourist area. August 2018.
View 1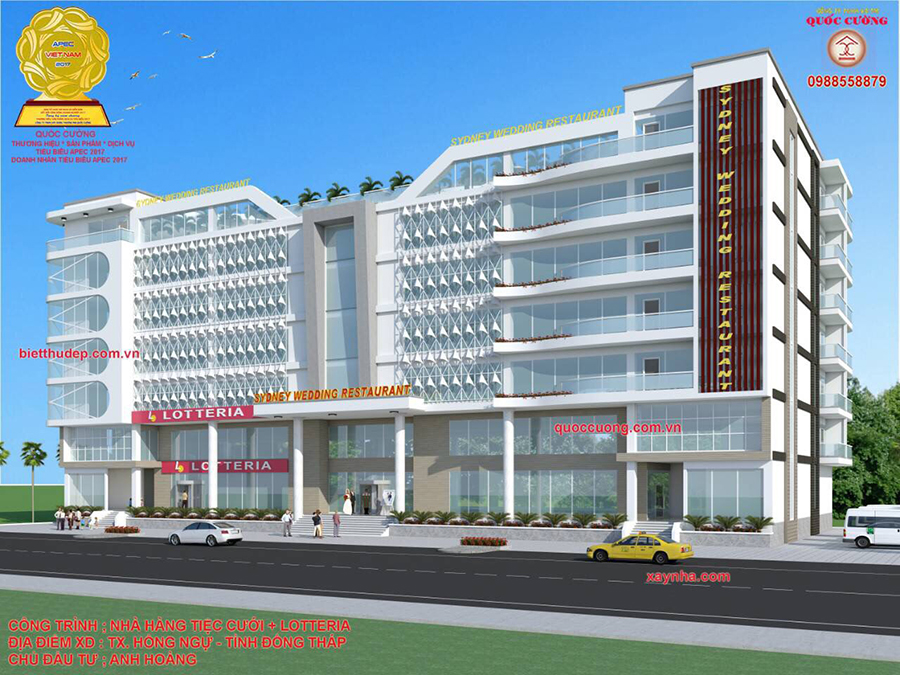 View 2