Pre-fabricated steel buildings, prefabricated houses  are constructed of composite steel structures, the shape of structures such as columns, trusses, braces as required by architecture, ensuring appropriate ventilation. Functional use, ensure aesthetics and robustness, good bearing for the project.
SPECIFICATIONS FOR BASIC STEEL BUILDING CONDITIONS
Width - length - height of the house: depending on the requirements of the customer.

Slope: Slope affects roof drainage. Normally, the requirement for roof slope is taken i = 10% to 15%.

Column Step: Column step is the distance between the columns in the vertical direction, determined by the length of the house and the purpose of use in the house, usually from 5m to 10m.

Load capacity: Include the following types: Roof load, wind load, crane load, floor load, load capacity, load of panels hanging on the ceiling (cold storage or use) ...
 PRIMARY STEEL FACTORY IS STRUCTURED
Main frameworks (steel columns and trusses): These are "I" cross sectional structures, whose height varies according to the internal plan. 
Secondary structural elements (roof purlins, purlins, wall beams, and wall beams) are cold-formed "Z" and "C" or hollow beams. 
Formed steel sheet (roof panels and wall panels). 
Roofing and other components. 
All major and minor structural production including cutting, perforating, drilling, welding and forming are completed in the factory prior to shipment to the site.
At the site, the components will be assembled and bonded to each other by bolts. This saves costs and minimizes installation time.
Pre-Engineered Steel Buildings Pre-Engineered
Steel Buildings also have the flexibility to add other structural components such as wall lights, exhaust fans, ventilators, doors and windows, trusses, mezzanines, System of bridge, insulation, etc ... based on various requirements of customers.
ADVANTAGES OF PRE-FIXED HOUSES
1. Cost savings
Save 20% to 30% on costs compared to traditional construction methods. Due to the low strength components designed to minimize the amount of steel, the steel frame is lighter and saves a lot of material. Depending on the use that the designer has arranged the column inside or not. If the interior needs ventilation, no columns in the interior, span beams (iron rafter) will be large. If the inside of the workshop does not require ventilation, the middle column should be arranged to reduce the beam to save costs.
2. Sustainability
Very durable, the steel frame is sturdy enough to support the materials and machinery inside the house. Especially the steel frame can cope with strong winds, heavy rain, storms and strong earthquakes.
3. Quick installation
Installation is quick and easy. The construction process includes standard design drawings, pre-fabricated steel structures at the factory and rapid erection at the site.
4. Flexibility
Pre-engineered buildings  usually have little or no inner columns. This makes the interior arrangement of the house flexible, to arrange the equipment, install elevators and machinery to conduct production, use efficiently.
Moreover, prefabricated houses are easy and flexible to scale up or dismantle, erect in a new location at an affordable cost.
5. Energy efficiency
A green solution for the environment by reducing CO2, saving energy.
Prefabricated homes  are well insulated with insulating materials, which helps to save energy. In particular, all steel components are manufactured in the factory, so the installation does not cause dust, noise and save the installation time.
6. Buildings using prefabricated houses
Prefabricated houses are an important part of manufacturing plants, warehouses, workshops ...
Prefabricated house design is an important part of factory design, warehouse design, factory design.
Prefabricated houses used in industrial projects: workshops, warehouses, factories ...
Prefabricated houses used for civil works: theaters, stadiums, offices, apartment buildings, restaurants, houses, villas, stadium stands ...
Major production plants usually have the following items:
a / Guard house, gate, fence, garage
b / Office cubicles (office space for directors, office staff, meeting rooms, staff restrooms, office restrooms)
c / Serving units (cafeteria, specialist residence, worker's place, worker's place, worker's toilet). The main structure of these items is usually the pre-engineered steel frame
d / Main production workshops, raw material warehouse, finished product warehouse, product quality control area. The main structure of these items is the pre-engineered steel frame
e / Truck scale
f / The system of yards, internal roads, trees  (to create beautiful scenery, reduce dust, reduce noise, increase oxygen gas, reduce CO2, prevent fire spread), underground fire.
g / Waste water, solid waste, air
h / Local and general water supply and drainage system for the factory, water tower
i / fire prevention and fighting systems, fire fighting, automatic fire fighting, lightning protection; CCTV system around the factory.
J / Transformer station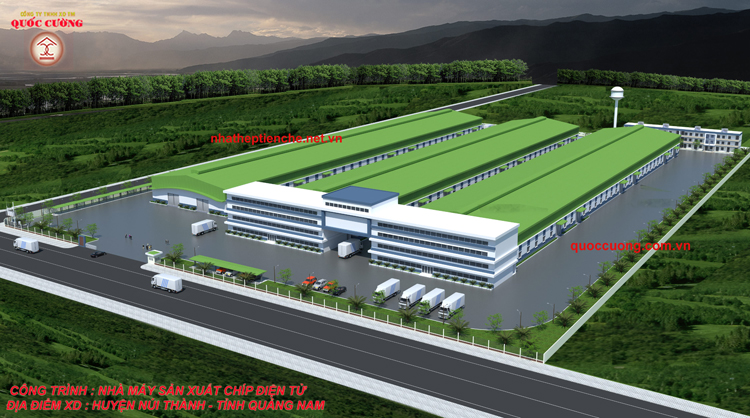 Prefabricated houses . Chips Manufacturing Factory. Location: Nui Thanh District, Quang Nam Province
      Viewing angle 1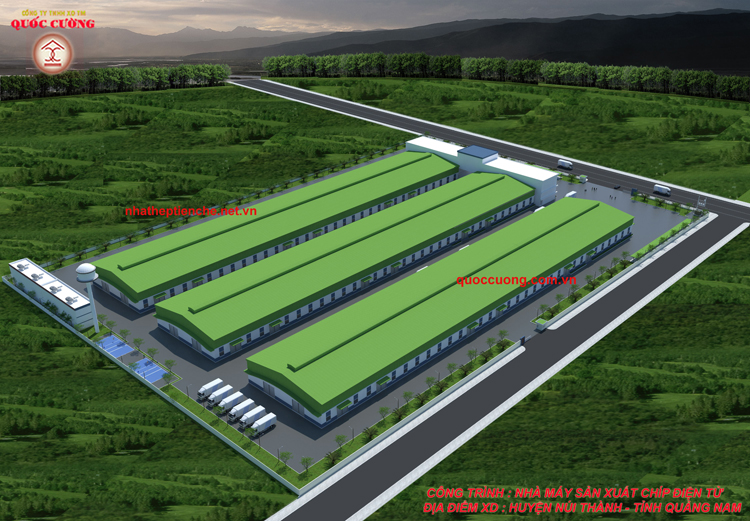 Viewing angle 2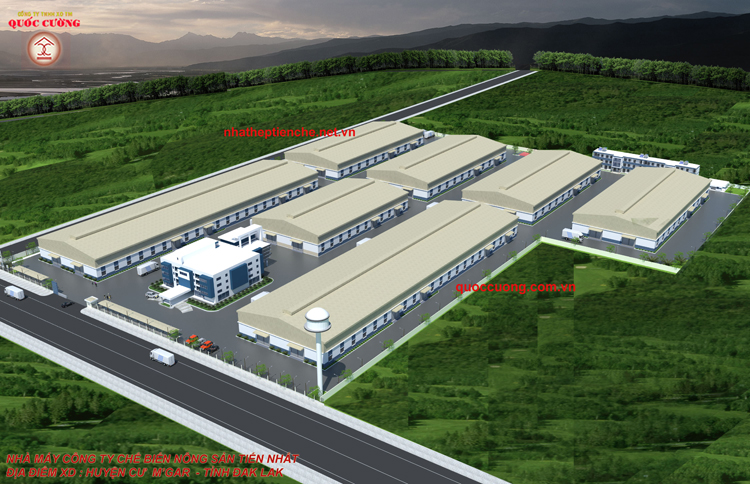 Prefabricated houses . Factory processing agricultural products Tien Nhat. Location: Cu M'gar District, Daklak Province
      Viewing angle 1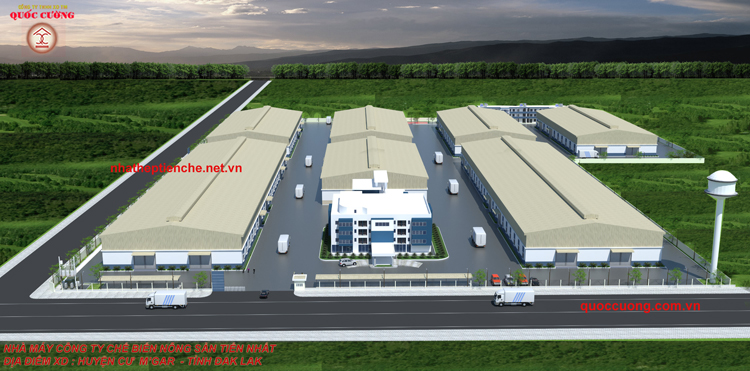 Viewing angle 2 
PRECIOUS STEEL BUILDING, DESIGN STEEL FACTORY, BUILDING FACTORY. HONG VINH COFFEE PROCESSING CO., LTD. Location: Dak Lak Province. 10/2016.
STEEL BUILDINGS . MINH DUONG FURNITURE MANUFACTURING CO., LTD. LOCATION: TRANG BOM DISTRICT - DONG NAI PROVINCE. April 2018.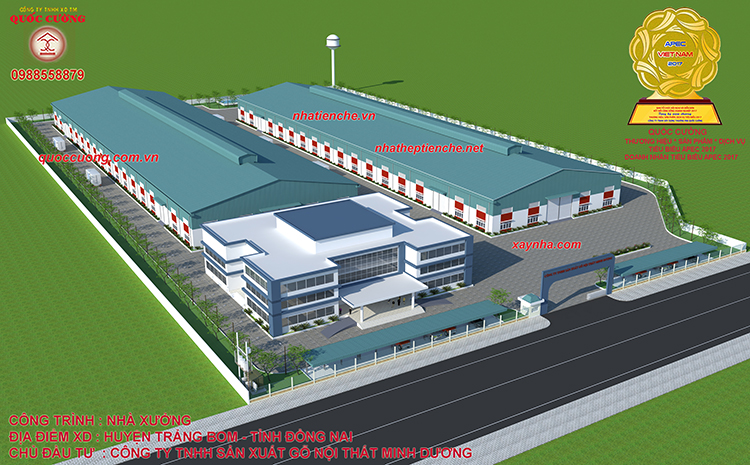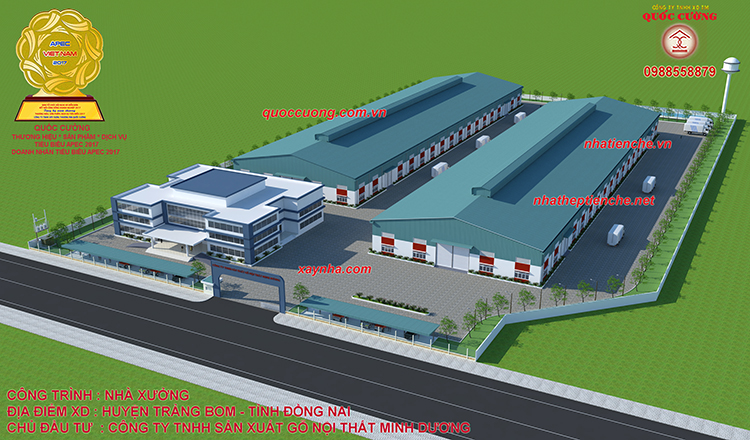 STEEL BUILDINGS. HOANG LONG AGRICULTURAL PRODUCTION AND PROCESSING JOINT STOCK COMPANY. LOCATION: CHAU DOC DISTRICT - AN GIANG PROVINCE. April 2018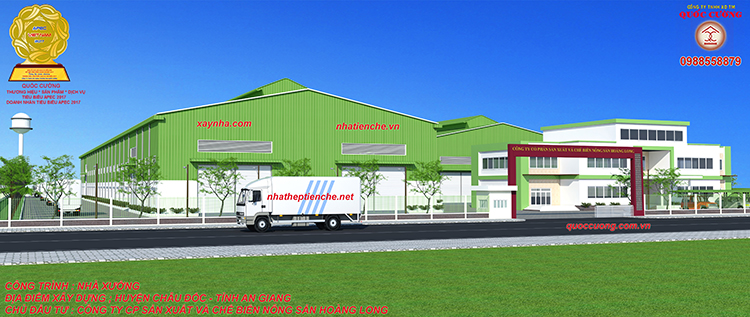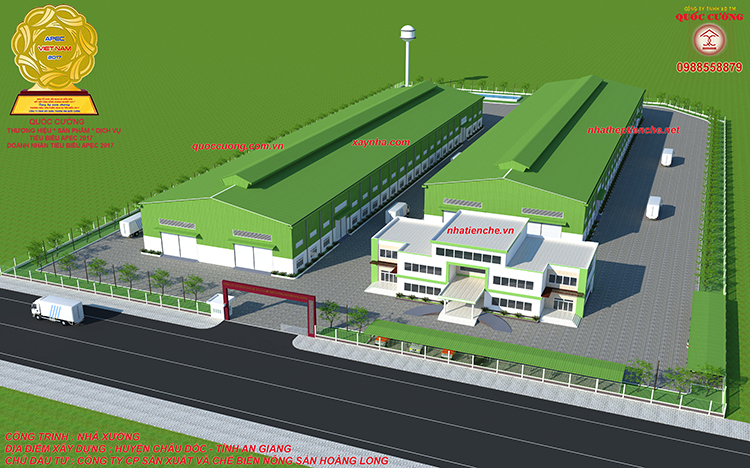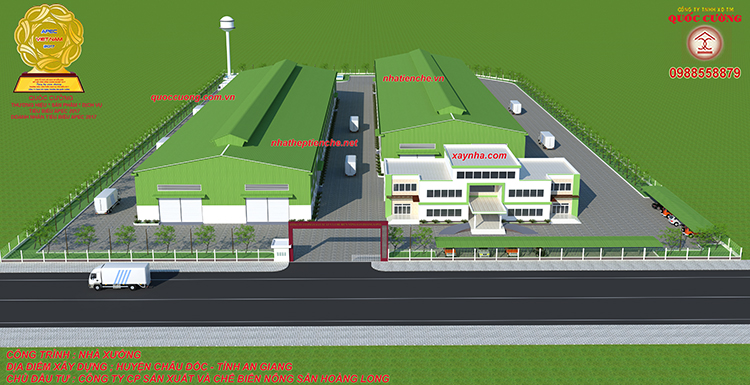 PRECIOUS STEEL FACTORY, PREPARED STEEL HOME DESIGN. NATIONAL FURNITURE MANUFACTURER FACTORY, PLACE OF BUILDING: Binh Duong Province, September 2016.
PRE-PASTE STEEL FACTORY, PREPAYER, DESIGNING FACTORY, BUILDING FACTORY. OFFICE REPRESENTATIVE - ELECTRONIC MANUFACTURING FACTORY. CONSTRUCTION POSITION: DONG NAI PROVINCE, APR
PRECIOUS STEEL FACTORY, PREPARED STEEL HOME DESIGN. TAN MINH NHAT ELECTRICAL EQUIPMENT MANUFACTURE FACTORY, Location: Binh Chanh District, Ho Chi Minh City. 08/2016.
BUILDING FACTORY, BUILDING FACTORY. PROJECTS UNDER CONSTRUCTION
Currently, Quoc Cuong Construction Company Limited is designing many prefabricated houses, designing workshops. Many restaurants and wedding showrooms are designed by the structure is a pre-engineered steel buildings. Most of the factories, workshops and warehouses are prefabricated.
Quoc Cuong Trading Construction Company Limited has more than 20 years of experience in designing pre-engineered steel buildings and pre-engineered steel buildings, with a team of well-trained and experienced architects and engineers, Modern equipment and machinery will meet the demand of good quality, high aesthetic, ensure the progress of construction, safety, reasonable price for pre-engineered buildings, workshops, warehouses. , factory for you .
T brand, product, service typical APEC 2017 
Typical Entrepreneur of APEC 2017
Hotline :  0988.55.88.79  ,  0903831312
Headquarter: 285 Vuon Lai Street, Phu Tho Hoa Ward, Tan Phu District, Ho Chi Minh City, VietNam.
Email : qc@quoccuong.com.vn
 Website: quoccuong.com.vn  ;  bietthudep.com.vn  ;  xaynha.com  ;  nhatienche.vn  ;  thietkenha.net.vn